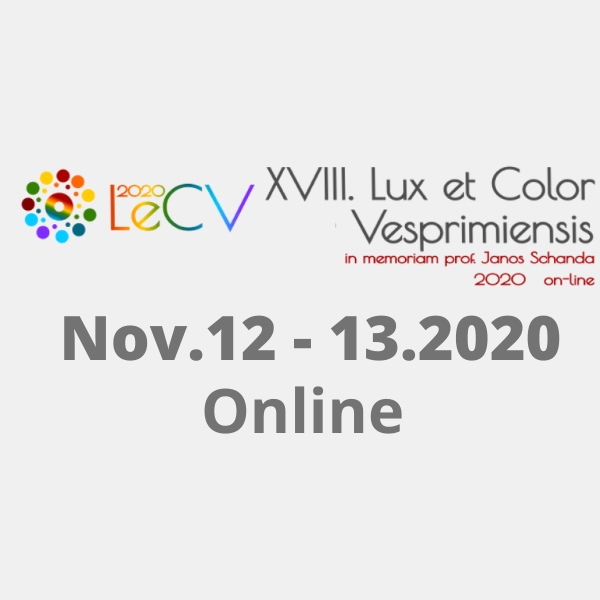 26 Oct

GL Optic sponsors the Lux et Color Vesprimiensis 2020

Lux et Color Vesprimiensis is a scientific conference on light and colour and it is organized every year in Vesprem, Hungary. This year highlights are the UV-C disinfection lamps measurements and application and the street lighting quality verification.

GL Optic have been a supportive sponsor of this event for a number of years, because we believe that the exchange of knowledge and opinions between the world of science and industry is necessary to offer the most efficient and effective tools and solutions.

This year, due to the pandemic situation the whole conference will take place online, between November 12 th and 13th. There are workshops presenting different topics related to light organized. All You need to do is to register online.

REGISTER HERE

The preliminary program is as follows:

On November 12th our COO Miko Przybyla and Marcin Pelko, Head of the GL Optic Calibration and Research Laboratory of Optical Radiation (CARLO) will give a presentation on UV-C lamp measurements principles and typical applications. They will talk about theory and pracitcal examples of UV applications and limitations in UV-C disinfection.

Also on November 12th Jan Lalek, a co-founder and the CTO of GL Optic and Andrzej Rybczyński, the project leader responsible for developing calibration equipment and spectral irradiance standard installed in CARLO will give an online tour around our new laboratory. They will show and explain everything about the Black Body Radiatior, as our CARLO laboratory is the only one in Eastern Europe equipped with it.

On November 13th Asst. Prof. Krzysztof Wandachowicz from Poznan University of Technology and Jacek Dylak, an Imaging Luminance Meter software developer and project manager for GL OPTICAM Systems will talk about practical application of luminance distribution measurements and have a live presentation of our GL Opticam.

Don't miss out and register today! 

REGISTER HERE

Lux et Color Vesprimiensis (LeCV) was organized for the first time in 2001 by the Applied Light and Color Working Committee of the Veszprém Regional Committee of the Hungarian Academy of Sciences (MTA VEAB), for the 70th birthday of Professor János Schanda. Every year, Lux et Color is a place to present the most interesting research works in the field of light and color. The researchers and students are given the opportunity to present their latest achievements. The conference also welcome the representatives of industry and give them the chance to meet the newest technologies and latest research results.
FIND OUT MORE ABOUT THE CONFERENCE