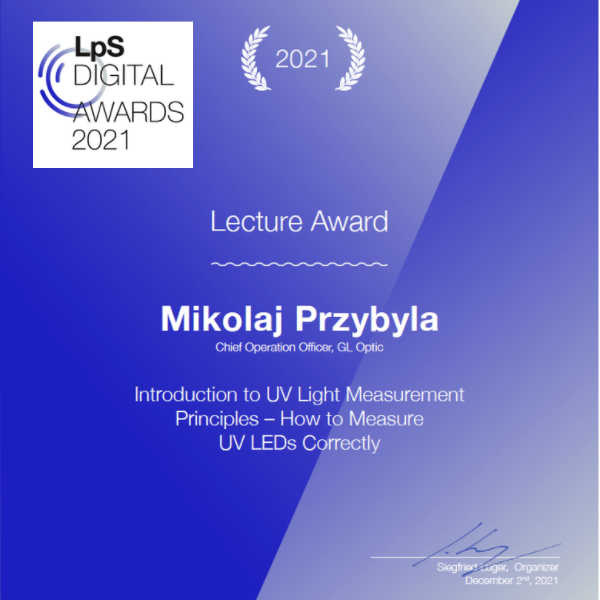 07 Dec

Mikołaj Przybyła awarded at the international LpS DIGITAL conference.

Mikołaj Przybyła's (COO of GL Optic) presentation on the principles of UV LED measurement was awarded as the most recognized presentation during the LpS DIGITAL conference, the first virtual conference on lighting organized by the publisher of LED Professional magazine. The presentation gained over 1500 views, the most of all conference presentations. The presentation on the principles of UV light measurement was a response to the rapid increase in the demand for UV disinfecting lamps. UV LED lamp performance tests are crucial for a proper virus disinfection process.

LpS Digital presents up-to-date content on lighting design, technology and applications, and introduces to the latest developments and trends.

"The pandemic has forced every entrepreneur to change their strategy. Ours had to change dramatically, because most of it was based on trade fair meetings, which disappeared overnight. Participation in LpS Digital allowed us to present our solutions in the form of a video presentation and after the response we received, we knew that this is the direction we want to go further. We started to prepare presentations and videos. " says Mikołaj Przybyła. "At GL Optic, we are happy to share our knowledge and experience, explain measurements and why it is worth carrying them out. Video works best for this. We make them available for free on our YT channel – GL Optic TV ", emphasizes Mikołaj Przybyła.

In addition to videos for example explaining the approval of car lamps or how to perform a lighting audit, GL Optic TV also offers materials presenting GL Optic measuring systems and laboratory facilities that allow for individual calibration of all GL Optic instruments.

CHECK OUT GL OPTIC TV ON YOUTUBE
Need more information about lighting ? Go to our blog.
LIGHTQUALITY.BLOG