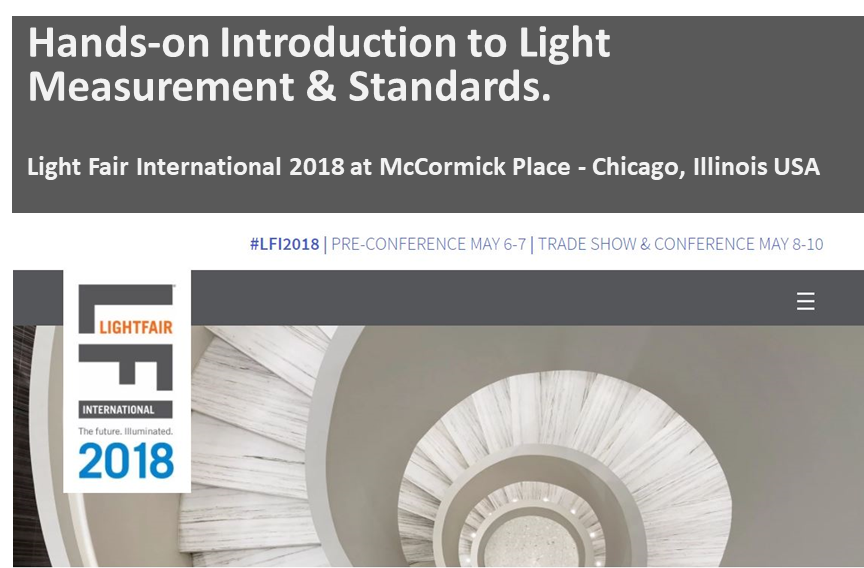 24 Apr

Workshop at the LFI 2018

Pre-Conference (LFI Institute): May 6, 2018, 
Chicago, US.

GL Hands-on Light Measurement Workshop at LFI 2018 in Chicago

Once again we are inviting all lighting professionals to take part in our light quality control workshop: Hands-on Introduction to Light Measurement & Standards. This time we will welcome you during the Light Fair International 2018 at McCormick Place – Chicago, Illinois USA. You will learn light measurement start to finish, from terminology, equipment and practices to hands-on with commercial measuring tools. You will measure fixtures, produce measurement files and apply these in lighting design software.
---
This course teaches light measurement principles and practices. We begin with terminology and key CIE and ISO standards, including LED concerns such flicker and photobiological-hazards. We progress to measurement techniques and processes, focusing on best practices. Putting this knowledge into practice, everyone performs hands-on measurements using professional systems. You will measure modules and fixtures, generate IES standardized files, and load these into lighting planning software, seeing the entire process from end to end, learning the real-world, practical aspects of lighting science. Each course module includes an open question and answer session to address specific needs and unique requirements of participants.
Objectives:
Understand how light is described and measured in quantitative metrics
Become familiar with measurement terminology, equipment and practices
Perform actual measurements using state of the art equipment creating IES photometric data files
Comprehend light measurement reports and how they are used in lighting design software
Recommended Audiences:
Beginner to Intermediate level participants from a variety of backgrounds including:
Architects / Interior Designers / Landscape Architects
Building Owners / Facility Managers / Maintenance Staff
Educators / Students
Government Officials / Municipalities
Integrators / Aggregators
Lighting Contractors / Installers / Inspectors
Lighting Designers & Engineers
Manufacturers / Distributors / Resellers
Safety and Compliance Personnel
Utility / Energy Services & Auditing Staff
Room: S403B
Session Type: 3-hr Conference Workshop
Pre-Requisites: None. A basic understanding of light and luminaries is helpful.
CEU: 3
Date: Sunday, May 6
Time: 2:00 PM – 5:00 PM
Session Code: L18W04
Type of Session: 3-hour workshops
Session Level: Foundational
Teaching Method: Lecture, Interactive
Contact information for presenter:
James S. Summers
Vice President
GL Optic USA
2000 Cabot Blvd. West, Suite 120
Langhorne, PA 19047
Phone: 267-852-2202
Cell Phone: 781-367-6788
Email: james.summers@gloptic.com
Biography:
James S. Summers is Vice President GL Optic and Just Normlicht, Inc. in the Americas. The companies design, manufacture and deliver light measurement tools and color critical lighting. Mr. Summers' background in color, lighting and color workflows spans over 30 years in management, business development, marketing, and services across a wide variety of companies and application environments.
Mr. Summers has worked with organizations across the digital communication industries, helping them define, develop and implement products and services. His expertise includes lighting, color management, print processes, content management, web development, and work process optimization.
James Summers is a frequent speaker at industry events, a member of IES, CGATS, PIA, SGIA and other associations and a graduate of the Rochester Institute of Technology with a Master's of Science in Printing Technology.