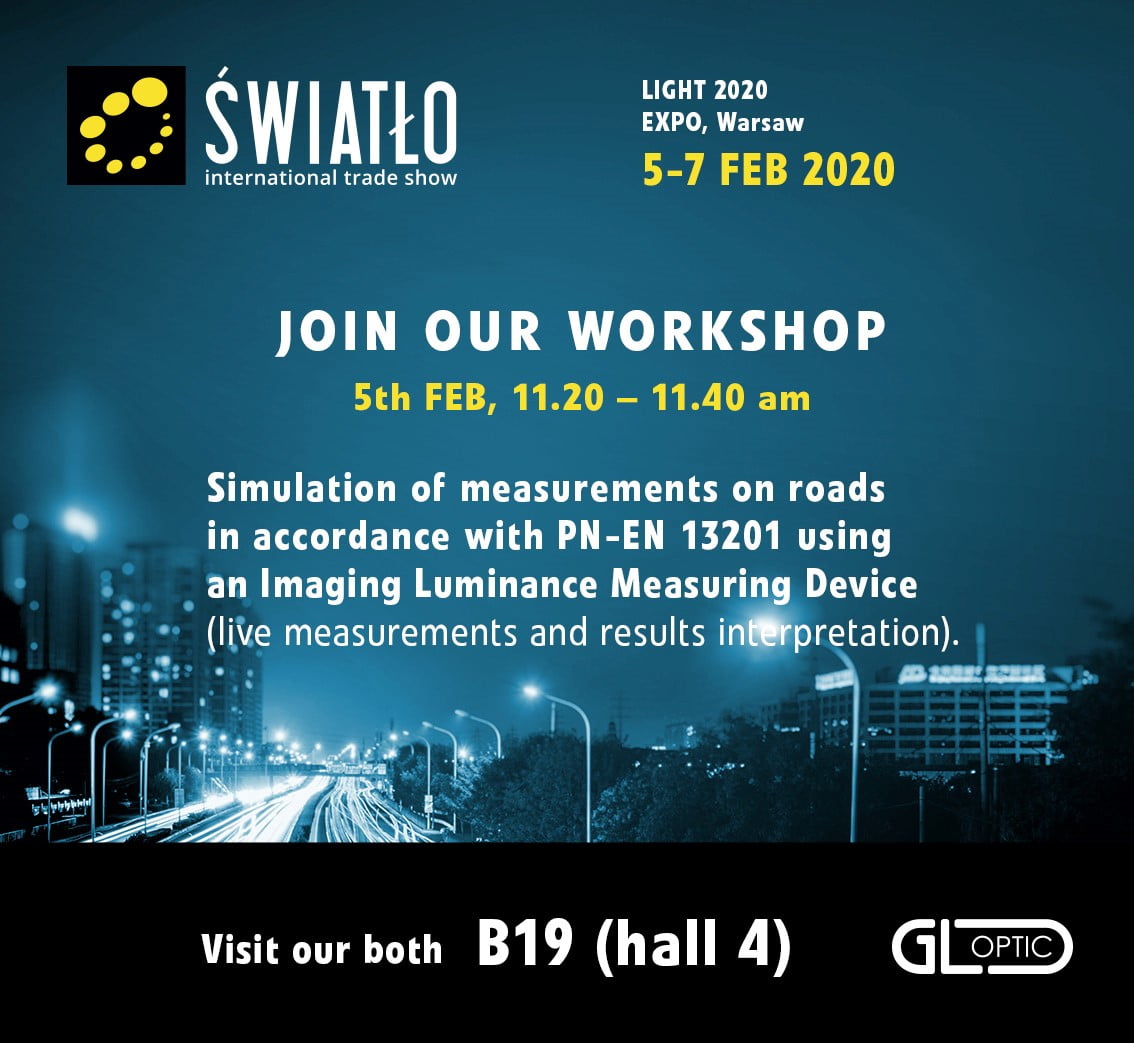 16 Jan

Light 2019, 28th International Trade Show of Lighting Equipment, EXPO, Warsaw, Poland

During this year's edition of light fair in Warsaw we will present our imagining luminance
measurement device GL Opticam 1.0, for immediate luminance measurements in the laboratory,
production or field application. We will also display our table top goniometer GLG 4-500 which can be used with the spectroradiometer GL Spectis 5.0 Touch for full optical characterization of UV LEDs, including angular intensity distribution diagrams. At the booth we will also display our hand-held spectroradiometers for fast light quality control, integrating spheres and other GL Optic solutions. Visit our both and check our devices – all designed and manufactured in Poland.
---
We would also like to invite you for our workshop:
"Simulation of measurements on roads in accordance with PN-EN 13201 using an Imaging Luminance Measuring Device (live measurements and results interpretation)"
by Krzysztof Wandachowicz from Poznan University of Technology and Mikolaj Przybyla from GL Optic
Language: Polish
5th FEB, 11.20 – 11.40 am
Visit our booth B19, Hall 4 / February 5-7, 2019
Light 2019, EXPO,
Warsaw, Poland
or contact us 
About the event:
Trade Show Light is the largest event in Poland dedicated to the lighting industry, which gathers hundreds of exhibitors and several thousand visitors each year. Manufacturers from Poland and abroad show their latest products here for 3 days. The international lighting exhibition organized in Warsaw is also the only place that offers such an extensive range of specialized trainings, and also presents global trends in the industry. It is a perfect place for architects and interior designers, investors, producers and distributors, as well as for anyone who is looking for inspiration. More about the event